Landscape of Enterprises in SEWA
SEWA aims to support the broad aim of economic empowerment by addressing the practical need of women to have more income-generating work.
Members of SEWA have, in their own capacity, done this time and again where women of a trade group come together to register for-profit enterprises, where Women are Owners, Women are Managers, and Women are Beneficiaries. We call these collective social enterprises or सामूहिक उद्योग. In SEWA's experience, women-owned, women-run collective enterprises along with mobilisation are a strong pathway to sustainable local economies and women's economic and social empowerment.
Worker cooperatives are less sensitive to market shocks, result in less job loss during downturns, and their lifespan matches or exceeds that of traditional enterprises. They do however face higher costs in raising capital due to the barriers in accessing finance for individual workers.
Every collective social enterprise within SEWA is a for-profit entity that aspires to become a sustainable business. Although such an enterprise must make profits, its main purpose is not profit maximization but attaining social impact, which is economic empowerment of its owners, members, and beneficiaries.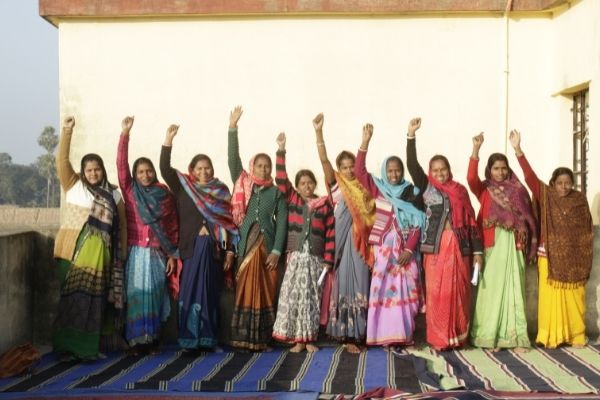 Consistently in its experience, SEWA has seen women-owned, women-run collective enterprises along with mobilisation to be one of the most powerful approaches to achieve economic empowerment and build sustainable communities.
Collectivisation gives power, voice, representation to women, enhances their bargaining power, and firms up women's space in the market
Enhances a woman's internal strength and confidence, empowering them as individuals
Shifts women workers from informal to the formal economy and creates and promotes resilience
Allows for economies of scale to be exercised
Role of Collectives in the Pandemic
Food
165,107 Ration Kits distributed
5.9 Lakh Cooked Meals distributed
Health
34,356 Health Kits distributed
674 Teleconsultation Calls facilitated with doctors
Enterprise Related
8 Business pivots enabled
INR 10 million Working capital support to social enterprises
Social Protection
124,000 women insured for COVID19
587,714 Women informed about social protection schemes
Community Mobilization
59 Aagewans trained to provide COVID-relief, health awareness, and rapid referrals
Get in touch with a representative