Join Our Team
Your internship experience with us will help you develop invaluable professional skills and build your leadership capabilities. As an intern, you will have the opportunity to take up a valued role within SEWA Bharat, and contribute to one of the largest movements for women in the informal economy. The structure of the internship is such that it allows the individual to work flexibly.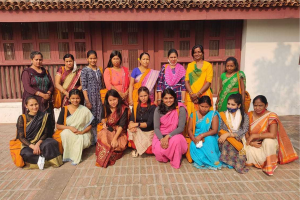 The minimum duration of an internship is at least four weeks. This is a full-time internship. During the internship, the intern is expected to be available throughout the office hours i.e, Monday to Saturday 9:30 am to 5:30 pm.
The intern will be working out of our offices located in various locations across 8 states. During the COVID period, since the members work from office in 50 percent capacity, 50 percent of the internship period would be working from the office. The intern is also expected to do field visits as and when required. Due to the uncertainty around COVID-19, we also invite applications from interns who can work remotely.
Yes. The interns get paid depending on their qualifications, skills, responsibilities taken up during the internship, and the programme they are working with. The stipend of the internship is agreed upon before starting work.
The intern would get a Letter of Experience acknowledging the work done during the internship.
Website and Digital Systems Design About SEWA Bharat: Self Employed Women's Association (SEWA) is a movement to empower women working in the informal economy. SEWA Bharat is part of the national SEWA movement. Established in 1984, it is a national federation of [...]
Illustration and Print Design About SEWA Bharat: Self Employed Women's Association (SEWA) is a movement to empower women working in the informal economy. SEWA Bharat is part of the national SEWA movement. Established in 1984, it is a national federation of SEWA [...]
Video Editing and Podcast Design About SEWA Bharat: Self Employed Women's Association (SEWA) is a movement to empower women working in the informal economy. SEWA Bharat is part of the national SEWA movement. Established in 1984, it is a national federation of [...]